How lovely is your dwelling place, O LORD Almighty! My soul yearns, even faints, for the courts of the LORD; my heart and my flesh cry out for the living God. Even the sparrow has found a home, and the swallow a nest for herself, where she may have her young -- a place near your altar, O LORD Almighty, my King and my God.
- Psalm 84:1-3
Day 8 & 9: Jerusalem excavations, Western Wall, Temple Mount, Pools of Bethesda, Saint Ann's, Via Delorosa, Church of the Holy Sepulchre, Old City souk, "Broad Wall", Upper Room, David's tomb, Jerusalem Model, Shrine of the Book, Yad Vashem, Bethlehem, Church of the Nativity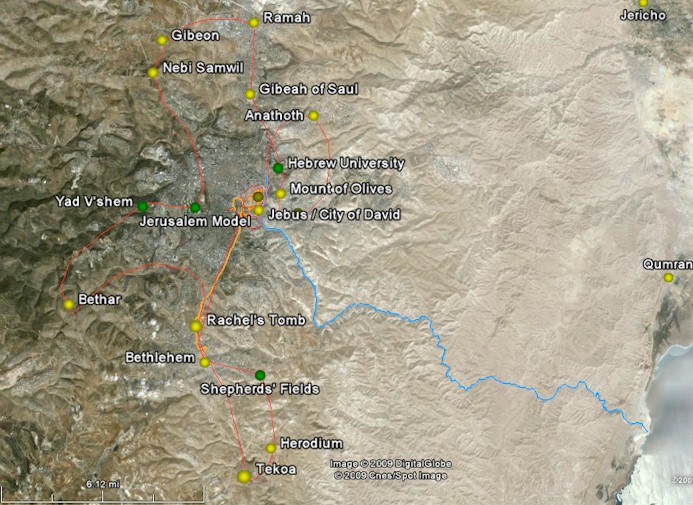 Google Earth is not well-suited to following a path in such a small area as the Old City of Jerusalem, so this tour is a bit different. I've combined the site visits from days 8 and 9 into this single tour and added in a number of sidetrips to take advantage of our hoppping about. It begins with several passes over the Old City to see where we went and to understand it in relation to its surroundings. We then take a sidetrip to the eastern face of the Mount of Olives to view Anathoth, Jeremiah's hometown, and the village of Bethany, home to Lazarus, Mary and Martha. From there, another sidetrip takes us north along the Mount of Olives-Mt. Scopus ridge into the territory of Benjamin to see Gibeah of Saul, Ramah (of Samuel), Gibeon and Nebi Samwil, the traditional burial site of the prophet and judge. At this point, we've crossed the Benjamin Plateau and are on the western side of the central Judean ridge. We'll go past the Shrine of the Book, the Jerusalem Model and Yad Vashem. We'll also see Ein Kerem, the traditional hometown of John the Baptist and Bethar, the site of the Jews' final defeat by the Romans in A.D. 135 that erased their sovereignty over this land for over 1,800 years. From there, it's south and east to Bethlehem, past the security wall to the Church of the Nativity and a sidetrip to the Herodium, Herod the Great's fortress and final resting place. If you can see the orange-colored highway, you're in the areas we visited. If you can't, we're taking a sidetrip. Particularly in the Old City area, I would suggest flying at the slowest speed.