Then Moses climbed Mount Nebo from the plains of Moab to the top of Pisgah, across from Jericho. There the LORD showed him the whole land -- from Gilead to Dan, all of Naphtali, the territory of Ephraim and Manasseh, all the land of Judah as far as the western sea, the Negev and the whole region from the Valley of Jericho, the City of Palms, as far as Zoar. Then the LORD said to him, "This is the land I promised on oath to Abraham, Isaac and Jacob when I said, 'I will give it to your descendants.' I have let you see it with your eyes, but you will not cross over into it."
- Deut. 34:1-4
Day 5: Heshbon, Medeba, Mt. Nebo, Arnon Gorge, Desert Highway, Shobek, Petra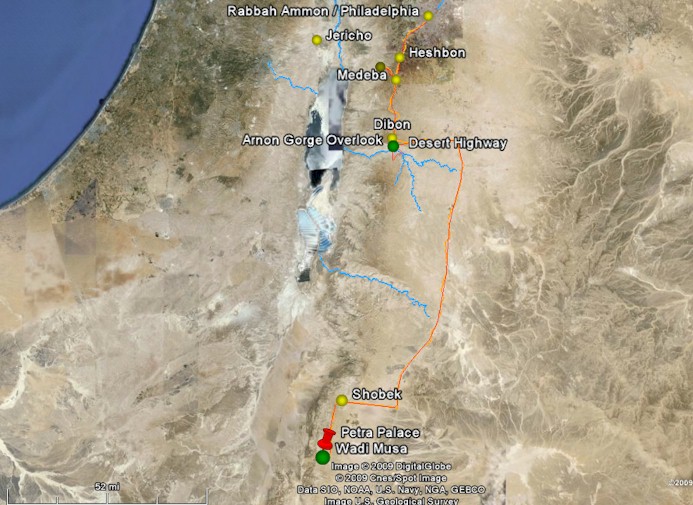 NOTE: The orange-colored line in the image above is my best rendering of the route we followed. The red-colored line is the route followed in the Google Earth flight.
Today's journey is that of Moses and the Israelites after they were denied passage along the Kings' Highway by the Edomites - except we're going in reverse. We'll travel along the Desert Highway far to the east where the terrain is easier but the climate much drier. Just as Moses had to navigate around the eastern end of the deep Arnon Gorge, so will we (again in reverse). When we do. we'll be in proximity of where the Israelites sang, "Spring up, oh well ..." We'll pass by, or close to, the cities of Sihon destroyed by Moses: Heshbon, Dibon, Ar (Aroer). We may even be at the site of Jahaz, where Moses defeated Sihon (although, truth be told, a site further east in the desert may be a better pick). For the portion of our drive north of the Arnon, we'll be in the tribal territories of Reuben and Gad. Southwards, we'll be in Edom.